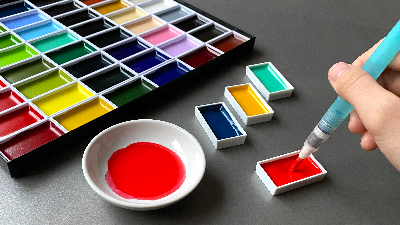 Kuretake Gansai Tambi Kopp 48mm x 28mm
Lämpliga för såväl professionella konstnärer som hobbyartister. Gansai Tambi Japanska akvarellfärger är handgjorda med pigmentfärger av professionell kvalitet. Akvarellfärgerna är semi-transparenta och krämigare i känslan än vanliga akvarellfärger. Resultatet blir som ett mellanting mellan akvarell och gouache. Vattenbaserat pigment. Den stora koppen 48mm x 28mm gör det enkelt att använda större, tjocka penslar och färga stora ytor.
Water-based pigment paint can be highly opaque when used solely as a gouache but can also become more transparent depending on the amount of water added for dilution.
Since Gansai Tambi is a pigment-based paint, it is lightfast as long as not too much water is mixed in, but please be noted that the more water is mixed in, the weaker the lightfastness becomes. Also the lightfastness depends on colors.

Kuretake

Colour chart

Blank Colour chart