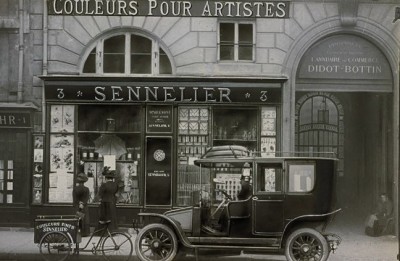 Gustave Sennelier, en skicklig författare som illustrerade kataloger för den kemiska industrin. Men hans sanna passion var kemi i sig; under fem år tog den unge mannen kvällskurser på Conservatoire des Arts et Métiers.
Och sedan, en aprilmorgon, såg han en chans att bedriva sitt största intresse. Rennande ner Quai Voltaire i en hästsvagn, märkte Sennelier ett "för uthyrning" -skylt placerat framför en konstförsäljningsbutik. Han tog över hyresavtalet och köpte allt återstående lager från butikens konkursägare.
Först sålde Sennelier färdigtillverkade färger. Men det tog inte lång tid innan han bestämde sig för att producera sitt eget sortiment av färger och korsade Europa för att få förbindelser med världens bästa pigmenttillverkare. Han förvandlade den tidigare ägarens studio till en verkstad och installerade två fabriker för att mala och blanda pigment. Snart kunde butiken göra allt från 900 till 1200 färgrör om dagen - några av dem, som "Chinese Orange", exklusivt för Sennelier.
Andra nyanser utvecklades på begäran av särskilda målare som nedlåtande hans butik. I slutet av 1800-talet sågs färghandlare mindre som leverantörer än konsulter. En målare kan komma in i butiken och begära en mörkare röd eller en vit med en matt yta. Idag listar Senneliers ättlingar Alfred Sisley, Pierre Bonnard, Chaïm Soutine och Paul Gauguin bland de otaliga konstnärer som gick genom dörren för att köpa färg.
1912 publicerade Sennelier The Chemistry of Colors, en guidebok som beskrev hur han skapade färg. Han hoppades att konstnärer skulle "förstå uppriktigheten i denna uppsats, och hur den är orörd av skuggan av reklam," skrev han. "Kemi är en vetenskap som inte döljer." Han hoppades kunna instruera konstnärer om vikten av deras material - en enkel vision vid den tiden. Han var den enda färghandlaren under den perioden som gav ut en sådan bok.
Sennelier begränsade sig inte heller till målning. Edgar Degas promenerade in i butiken en dag och begärde mjuka pasteller i en rad bruna; kolorman utvecklade så småningom en serie med 700 nyanser i mediet, varav 30 blev Degas egna bruna. Andra konstnärer, inklusive Édouard Vuillard, köpte duk i butiken. (Butikens nuvarande ägare, Dominique Sennelier, får fortfarande samtal från kuratorer som har upptäckt Sennelier-stämpeln på baksidan av målningar.)
Så framgångsrikt var verksamheten att det släpptes genom generationer. Henri Sennelier, barnbarn till Gustave, kontaktades av Pablo Picasso själv 1948. Den spanska målaren bodde i närheten, i en studio han hittade genom sin älskarinna Dora Maar (själv konstnär). Han hade redan köpt flera anteckningsböcker från butiken, men den dagen hade han en mer komplicerad begäran. Han frågade Henri om han kunde skapa ett medium som kan användas på vilken yta som helst utan att behöva en speciell beläggning.
Det tog honom ett år, men Henri återvände med något som han kallade "oljepasteller" - pigmentpinnar som var vaxartade snarare än krita, och som kunde användas i tjocka, täta slag. Picasso, nöjd, köpte 40 av var och en av de 48 färgerna. Henri kastade resten av sitt lager på hyllan och undrade om de skulle sälja. De blev snabbt en sensation, och butiken gör dem fortfarande idag
Idag har den ursprungliga Sennelier-butiken blivit ett globalt varumärke. Men vissa saker har förblivit desamma. Den ursprungliga butikskontoret på Seinen fungerar fortfarande. Och familjen Sennelier - nu fjärde generationen - driver fortfarande butiken.
De kanske mest uppenbara, de levererar fortfarande anpassade material till banbrytande artister. Sennelier arbetade tillsammans med David Hockney för sitt massiva, flerduksarbete Grand Canyon (1998). Och de arbetar med otaliga andra artister, många okända."Men imorgon," sade Dominique, "kanske [de] är Cezanne från 2000-talet."